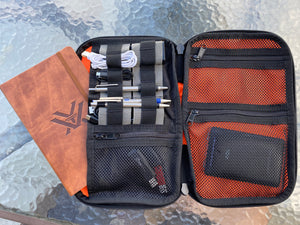 Garage Built Gear - Ultimate EDC Folio
I don't know about you, but I'm a sucker for great gear that is built right here in the U.S.A.  I love supporting people that are (or were) in the same position as myself - taking something they are passionate about and trying to make a name for themselves.  I also have come to know that my fellow Americans know how to make some damn good products, so when I buy something with that "Made in the U.S.A" tag I typically know exactly what I'm getting. 
That is why I've decided to start writing about all of the different "Made in the U.S.A." gear that I currently have or have had experience with.  I don't necessarily think anyone out there cares about my opinion which is part of the reason I've convinced myself to write this – nobody is going to read it anyways!   
TL; DR – I suck at writing, I feel the GBG EDC Folio is well worth the money spent and it exceeded my expectations. Can be bought here: LINKY-LINK
Today I will be talking about Garage Built Gear. 
If the name does not tell you enough, I will elaborate some for you.  Garage Built Gear (GBG) is made in a garage in Tennessee U.S.A. by a guy named Matt who taught himself how to sew.  I first stumbled across his gear when he shared it in a Facebook Group called "The Perfect Pack".  The pictures he shared were of a backpack he built for a customer and it looked so great I had to get on his site and check out what else he had to offer.  There is a lot of quality looking gear on there, but what initially caught my eye was the Ultimate EDC Folio Organizer.  It seemed to be just the ticket for my Hill People Gear Connor v2 pack (more on that pack another day). 
Made from 1000D and 500D Cordura and available in a variety of colors (Multi-Cam Black most importantly), these are the answer to your organization problems.   
There is:  
elastic

 webbing for pens, 

knives, tools, cords, etc

.

 

 

3 zippered mesh pockets inside and one outside  

 

a 

full-length

 pocket on the inside 

behind the elastic webbing 

 
and a pocket on the front under the Velcro patch panel.  

 
The interior is blaze orange making finding what you want in those zippered pockets much easier. 
I have always been known for over packing so when I got mine in, I made it an exercise in minimizing my loadout.  I purchased this specifically to help organize my EDC backpack and make things I use often 1). Easily accessible and 2). Easily transferrable to another pack.   
These items include:  
a 

few different writing utensils, 

 

Lightning charging cable, 

 

micro-

USB

 charging cable, 

 

 

USB-C charging cable (when can everything be standardized to this?!), 

 

USB wall socket to use with aforementioned cables, 

 
20k mAh battery bank for mobile charging, 

 

a couple thumb drives, 

 

an SD card reader

, 

 

and my field notes/journal

 (almost same size as a large moleskine)

.

 
In all likelihood I will also add a small "boo-boo" kit (so I don't have to get in to the FAK in my pack for a band-aid) and probably a small Leatherman multi-tool whenever I can make my mind up on what model I want to get. 
After about a month of use, I am really loving the Garage Built Gear Ultimate EDC Folio, and am planning for more GBG gear to help organize my hunting pack, vehicle, and 3D printing work area.  If you need (or want) a little more organization in your life, or just like cool gear, be sure to check out GBG! 

P.S. If you enjoyed this review, we would love it if you followed us on Facebook and Instagram! You can click the icons at the bottom of the page and they'll take you straight to our social media pages!  
https://www.garagebuiltgear.com/collections/tech/products/ultimate-edc-folio-organizer 


---
1 comment